Predicting the future of potentially disruptive technologies has become an essential responsibility for business leaders for their organization's survival and success, especially as digital technologies shape competitiveness in a wide variety of industries. The role of digital technologies in attaining organizational goals has increased significantly during the last few years. Enterprises, business models, products, processes, and organizational structures are now all revolutionized by the usage of new digital technologies.
Even though more business processes are now digitized than ever before, employees of both large and small businesses are still required to perform monotonous, repetitive tasks such as keying in client information from invoices, cutting and pasting data from one application to another, and answering basic customer questions via calls and chat. Employees find it increasingly difficult to engage with clients, develop new processes, and adjust to changing business conditions if these activities are not automated.
While the term "automation" and "digital transformation" are sometimes used interchangeably, their meanings are quite different. Automation is the process of using technology to make processes run more efficiently while also enhancing transparency and reporting capabilities; whereas the adoption of technology in all aspects of a business to give more value to customers faster is known as digital transformation. It's a systemic, all-encompassing shift in the way the company functions.
To modify how they work and serve their market, new technologies are introduced to optimize or establish new business processes. This comprehensive transformation demands a cultural shift that embraces and promotes innovation. To keep up with the competition and respond to customer and market expectations, new and evolving technologies must be adapted continuously. Moving everything to the cloud and implementing a range of digital technologies are just the beginning of a digital transformation.
True digital transformation involves leveraging all digital technologies available to you, including automation and data analytics, to fundamentally change how your organization works and makes decisions.
In the digital transformation process, process automation is a necessary step. Everyone benefits from a more effective workflow when automation is implemented and integrated across the entire organization, not just IT. In a nutshell, automation is a process for achieving the goal of digital transformation. If digital transformation provides the foundation for new business prospects, automation is the mortar that keeps everything together.
The next wave of digitalization will be led by big data, intelligent automation (IA), and artificial intelligence (AI). Businesses may use big data to collect large amounts of data and generate valuable insights that can be used to make critical business decisions while cutting costs and improving revenues. However, simply collecting a big amount of data is rarely sufficient. Organizations are incorporating data analytics into their ecosystems to mass-customize offerings, optimize and improve customer experience, manage risks, and sketch out a future roadmap using data-transforming and modeling capabilities. Combining automation and data analytics can help businesses achieve faster results by improving accuracy and operational efficiency. Analytics, IA, and AI advancements are allowing organizations to boost performance and productivity while also modifying organizational structure.
Hence, automation becomes a necessary pit stop on the road towards digital transformation.
The burden of existing business processes, that consume resources and offer no time for strategy and innovation, is one of the major obstacles to digital transformation. Robotic Process Automation (RPA) and intelligent automation (IA) in the cloud automate existing business processes quickly and efficiently, freeing up resources and delivering a new level of process and business intelligence, which serves as a basis for digital transformation initiatives. Hyper-automation is a way for true digital transformation, with tools like Robotic Process Automation (RPA), machine learning (ML), and artificial intelligence (AI) working together to automate complex business processes. It even automates the automation by identifying business processes dynamically and creating bots to automate them. Gartner recognized hyper-automation as one of the year's top 10 strategic technology trends.
Processes are improved via digital transformation, while automation increases speed and reduces costs. When digital transformation is combined with process efficiency, which is enabled through automation, the result is improved business value.
According to a PwC report, emerging technologies (augmented reality, drones, virtual reality, IoT, robotics, and blockchain, are driving rapid cross-functional innovation and making businesses smarter.
The importance of Intelligent Automation (IA) in the digitalization agenda cannot be overstated. Organizations can transform their working practices by layering automation and intelligent technologies such as smart optical character recognition (OCR), natural language processing (NLP)/natural language generation (NLG), and machine learning (ML).
As businesses progress along the digitalization maturity curve, IA is quickly becoming mainstream. Market expansion and citizen-led innovation in IA adoption are being fuelled by rapidly growing product capabilities.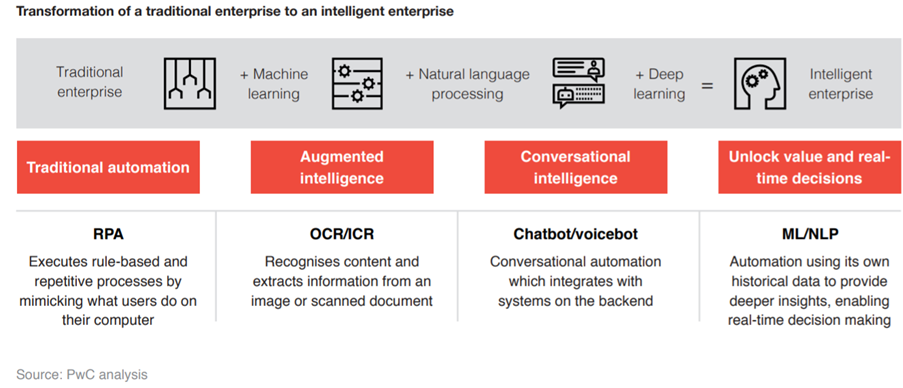 Automation offers improved capabilities to businesses and help in the execution of agile operations and improves performance. Businesses can use process automation to improve operational efficiency and the overall customer experience. Organizations can also improve operations, decrease risks, cut costs, and redeploy workers to focus on cognitive activities that add strategic value. The IA market is growing at an unprecedented rate because of its extensive applications and usefulness. Automation is also being used in cybersecurity and information governance to execute basic, manual tasks, potentially saving time and money.
"According to Analytics Insight, the worldwide IA market would increase at a CAGR of 14.5 percent  between 2025 and 2030, rising from USD 13 billion to USD 25.7 billion and USD 50.5 billion, respectively. "
Our Digital and Analytics services offer Big Data Management, BI and Data Visualization, and Data Science services that have the potential to analyze, visualize and predict events. Besides, predictive Analytics gives the capability to react to events before their occurrence. Analytics can not only help enable data-driven decision-making but also drive business innovation.
Services such as Telematics Analytics, Video Analytics, and Predictive Quality are helping different industries like automotive, manufacturing, healthcare, and BFSI to automate their processes and improve operational efficiency.
We also provide a cognitive platform for complete factory solutions, Prophecy that applies machine learning and deep learning techniques to solve complex manufacturing, logistics, and marketing problems and enables organizations to make informed decisions.
Predictive maintenance (PdM) is a type of condition-based maintenance that monitors the condition of assets using sensor devices. We use machine learning and predictive analytics to predict when the asset will require maintenance and prevent equipment failure.
We offer a new generation data management end-to-end platform, MOTIF that combines the elements of the enterprise data warehouse and data lakehouse. It enables consumable, efficient, and cost-effective data structure and data storage.
We have utilized MOTIF to solve many challenges faced by various industries.
Recently, we have enabled a 58-year-old Japanese electrical equipment conglomerate to adopt a smart factory-connected ecosystem through our products MES integrated with MOTIF (an end-to-end data platform) using the HPE infrastructure. We solved the problems of the client like manual tracking of bins and optimizing shop floor operations, errors and mismatches in data produced, and incorrect raw material procurement from stores to workstations, we have helped our client to embrace data-driven culture & drive better customer experiences. Our solution solves all the challenges by providing an automated solution that gives clear visibility of the shop floor operations through intelligent insights, production forecasting, warehouse stock management, and effective planning of machine maintenance.
In the rapidly changing world of the industrial landscape of the manufacturing industry, automation becomes significant for improving organizational performance through technological innovation and human capabilities, as well as for addressing today's most significant challenges. The increasing adoption of digital technology is obvious all around us, and it has become critical for businesses to align their business strategy properly, not only to respond to this change but also to pave the way for digital transformation.
Digital Transformation is more than just enhancing existing processes to create and deliver new value to consumers. Automation enabled by technology is the backbone of digital transformation, which empowers businesses to grow and transform.