In today's era, data is expanding at a high speed in the light of the digital age. The quantity in which enterprises are producing data is growing exponentially. Data has become inevitable for companies, and they need to be equipped with proper platforms to mine insights.
The process of capturing insights from the data is quite time-consuming and it requires dedicated internal resources and efforts.
This is where Power Platforms can help. It allows data democratization and offers four significant technologies that help employees to place with the data if they don't have enough programming skills.
Power Platforms provides a simple method for users to help them with the creation, automation, and analysis of data in a manner where the employees feel at ease playing with the data.
Microsoft Power Platforms has enabled the low code/no-code revolution across the globe, that transforms opportunities for different individuals and businesses to foster deep learning.
It is a mix of three services – Power BI, Power Apps, and Flow. While each service is best, their combination as Power Platform is an advantage for the customers. It helps in improving performance of everyone from CEOs to front-line workers to drive business effectively.
Power Platforms is an industry agnostic platform that can be utilized by various sectors to ease their business processes. It is getting utilized effectively in the Automotive, Education, Financial Services, Healthcare, and Manufacturing industries.
Role of Power Platforms in delivering real business values by using data and insights
In today's age, businesses have realized the importance of data to form business decisions to get the desired results.
As a result, data is gathered from various platforms such as social media, Web traffic, CRM, ERP, etc. This data is being channeled more efficiently by organizations these days.
So how do companies get maximum output from the data?
Organizations can utilize Power Platforms to get the best out of the data. It helps in analyzing, acting, and automating the three essential services that are offered by Power Platforms that organizations can use to drive the business forward.
Power BI, Power Apps and Automate these 3 services work together to process and analyze the data and meet the needs of the end-users at all levels.
Products of Power Applications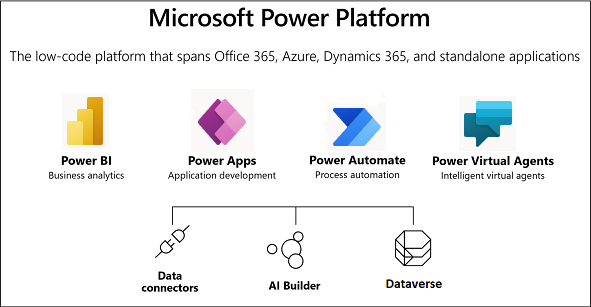 Microsoft Power BI is known as an analytics tool that is used to integrate a wide range of data by creating dynamic reports, and interactive dashboards that are partnered with visually appealing dashboards. It analyzes data from different sources and provides actionable insights through business analytics tools.
It helps businesses to consolidate their data from different sources and gain accessibility to one centralized dashboard. It is available in different editions of Pro and Premium.
Key Benefits of using Power BI
• It provides real-time updates
• It helps to manage a large pool of data and integrations
• Helps in building personalized dashboards and reports very quickly
• Cost-efficient tool
• It gives out monthly updates related to changes in technology
• It helps in collaboration with easy Power BI report-sharing features
Power apps help to create mobile and web-based applications with low or no code. So, we can say power apps are a combination of connectors, as well as a data platform that provides a flexible environment for developing custom build apps for business needs. It has integration with Power BI, SharePoint, and One Drive, to offer a highly flexible management solution. It allows users, to create a diverse range of customized applications, and they can download on their phones and laptops and use them.
Key Benefits of using Power Apps
• Power Apps Develops New Apps Fast.
• New apps developed under Power Apps can be downloaded and used on their phones and laptops.
• It assists in streamlining different operations.
• Power apps are integrated with Microsoft Flow.
• Power Apps are designed in such a way that it ensures organizations are fully satisfied with App they build.
Power Automate also known as Microsoft flow that creates an automated workflow between the apps. It helps to streamline your business processes and reduce human errors thus helping in seamless integration. Thus, Microsoft Power Platforms enables organizations to incorporate robust workflow automation into enterprise applications with no or low code. It has numerous pre-defined layouts.
Key Benefits of using Power Automate
• It can be used to automate workflow
• It helps to streamline the business processes.
• Mobile Access
• It is a nutshell it allows you to conserve time and minimize manual work.
Power Agents, help you solve common customer and internal collaboration issues efficiently. It is a very efficient tool as it engages customers and employees in different languages across different social platforms like Facebook, Websites, Microsoft teams, etc.
Power Virtual Agents helps users to develop virtual chat agents without any coding. Thus, Power Virtual Agents can easily conduct a complete chatbot development process that starts from scratch – creating dialogue for virtual agents deployed to a particular channel such as Skype, Slack, Teams, and so on.
Key Benefits of Using Power Virtual Agents
• It helps you create AI-based Chatbots for different request ranges.
• We can engage customers and employees in different languages across various platforms.
• Sales helps and support issues
• It gives you suggestions on new bot Q/as to build based upon user activities.
• It helps to monitor the performance and improve the chatbot experience.
At Motherson Technology Services our vision is to extend Microsoft Power Platforms to different business verticals that help in resolving modern data problems, thus enhancing customer experience, and profitability and delivering innovative solutions.