Effective supplier management is an essential component of running a successful business. It ensures that we derive maximum value and growth with the supplier partnership concerning the product requirements and the resources invested in the process.
However, not every business can extract the true potential from the supplier's service, leading to inefficiencies in the supply chain processes and impacting the supplier relationship.
To overcome these issues, you need to chart a supplier management framework to help overcome the inefficiencies. The framework will help improve supplier performance tracking, enhance communication, and develop a transparent relationship that will eventually lead to effective supplier management.
Effective supplier management will enhance:
Thus, competent supplier management will lead to an improvement in many areas of supply chain operations. However, how do you create a framework for effective supplier management? Let's find out.
Steps to creating a supplier management framework to establish a robust supplier management
A supplier management framework provides simplified yet detailed information on how to determine the level of supplier performance management (SPM), create KPIs, give feedback to the supplier, review supplier performance and create an assessment Scorecard at an identified milestone.
The structure is suggested below.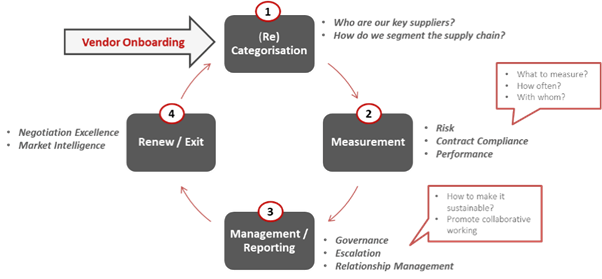 As evident from the figure above, the supplier management framework is circular.
The first step is vendor categorization. In this step, you need to identify your key suppliers and classify them into different groups, as doing so helps with better resource allocation and management. Supplier categorization is one of the critical components of developing an effective supplier relationship management (SRM) program and is not an easy task. Moreover, an incorrect segmentation can lead to more problems and disrupt supplier partnerships and management.
You can use the Kraljic Matrix for proper supplier segmentation. The Kraljic Matrix is proven to be one of the most effective ways for the purpose in which you must plot the supply item against two key dimensions: the item's risk and profitability.
The second step is measurement. In this stage, you need to measure the risk associated with the supply item, contract compliance, and supplier performance to understand better how each supply system component performs. To carry out the effective measurement, you need to have clear answers regarding what to measure, how often you need to measure, and whom you need to measure.
The next step is management/reporting. In this step, you analyze the measurements done in the previous stage. Based on the analysis, you need to find methods to make the supplier relationship more sustainable and promote collaboration.
Lastly, the final step is the renew/exit stage. Here, you need to decide whether it is in your best interest to continue the supplier partnership or you need to find a new supplier. 
How to Improve Supplier Strategic Partnership 
To enhance strategic partnership focus, you need to work on the following five things.
1. Supplier partnership and governance model
This model aims to promote transparency and open communication that can help improve supplier management throughout the contract lifecycle. The basic requirements of the supplier partnership and governance model include selecting the right supplier partner and having precise internal and external alignments regarding supplying processes. 
2. Contract and performance management
The contract and performance management involves reviewing the contract periodically to create an effective supplier management system. Throughout the contract life cycle, you need to track the supplier's performance via the SLA and KPIs. The parameters you need to focus on include the supplier's performance, cost, responsiveness, and quality.
Based on the analysis, you can change the contract and processes to increase operational performance.
3. Pricing model and cost control
Cost control can help you reduce procurement costs, improve supplier terms, and decrease product prices. Some of the ways for effective cost control include:
Negotiating costs with the suppliers.
Reviewing supplier terms and discounts to find out the best deals on bulk ordering.
Purchasing an appropriate quantity of materials for better negotiations and smooth supplies.
Entering supply-driven cost savings projects
 
4. Risk assessment and mitigation
The risk assessment process helps identify internal and external risks impacting supplier management. You can then find appropriate solutions that can help mitigate the risks. Some of the adequate methods include:
Contract planning and provision
Supplier audit and assessment
Maintaining a close relationship with a supplier
Invoking specific policies, procedures, processes, or systems
 
5. Operation collaboration and improvement
Supplier operation collaboration is aimed at improving the buyer-supplier relationship. Different forms of supplier collaboration include collaborative innovation and integrated processes.
Conclusion
Supplier management can either be tedious, cumbersome, chaotic, or well-defined, smooth, disciplined, and organized. There are various complexities involved in managing supplier partnerships. The complexities increase exponentially with scale and are inevitable.
Thus, it is recommended that both you and the supplier plan and implement effective management processes that may lead to enhanced collaboration, improved supplier partnership, long-lasting relationships, and business growth.